Musings of An Eclectic Cowboy
June 30, 2008
Foothills
Have you ever noticed that it is hard to go directly to the top of a mountain. That is unless you have a helicopter. I remember as a kid living in Friona, TX going up to Colorado to visit my Granny and Granddad. They lived just west of Trinidad near a little town by the name of Weston. The ranch that my Granddad leased was on up in the mountains and went all the way up past the timberline up to the top of Culebra Peak which sits at a little over 14,000 feet. Some of my most cherished childhood memories were made in those mountains. Well to get there we started off in the flat plains and headed north west. Once you got past Clayton, NM you would eventually start seeing the vague form of the Santa De Cristo Mountain Range. I would start looking as early as possible for that glimpse of those mountains. We never could get there fast enough. Once we got to Raton, NM and then over Raton Pass to Trinidad, CO then we were in the foothills and the mountains were just getting closer and closer until finally we were there, my paradise. But try as you might there is no way to get to those mountains with out some how going through the foothills. Even if you were to fly in on a helicopter you would have to fly over the foothills.
In life we all have our mountain destination that we are trying to get to. And whether it is a spiritual, financial, family or other type of destination each and every one of us have a dream that ends up on our own personal mountain top, our own paradise if you will. And to get there we have to go through the foothills. There are paths through the foothills to the mountains beyond. And those paths go over hills and down canyon walls and up valleys towards our destination. Sometimes we get there rather quickly and sometimes it takes a while and also sometimes we end up back in the plains, back in the desert. This all happens because as we are traveling though life we cross paths that force us to make decisions about our lives. As we cross those paths sometimes we make bad decisions that lead us back down. Some of those bad decisions are because of our own stupid mistakes and some of them are because of situations forced upon us by others. But all of those bad decisions lead us away from our mountain, away from our destination. Now if we make the right decisions and seek the right guidance then we end up in the mountains all the way up to the top of our dreams.
You see I believe that God puts a dream in each of our hearts. A dream that puts us up to the top of the highest mountain. A dream that when fulfilled will put a smile on our faces that nothing can wipe off. But to fulfill that dream we have to travel through the foothills. We have to work our way up to the mountains because we can't just get there without trying. Now we may have a hard time getting there but the good thing about it is that no matter how far we get off course, those mountains are still there and all we have to do is to turn around and start back up the trail to the top.
Keep dreaming, keep trying to get to those mountains. And remember that the only wasted dream is the one that you give up on.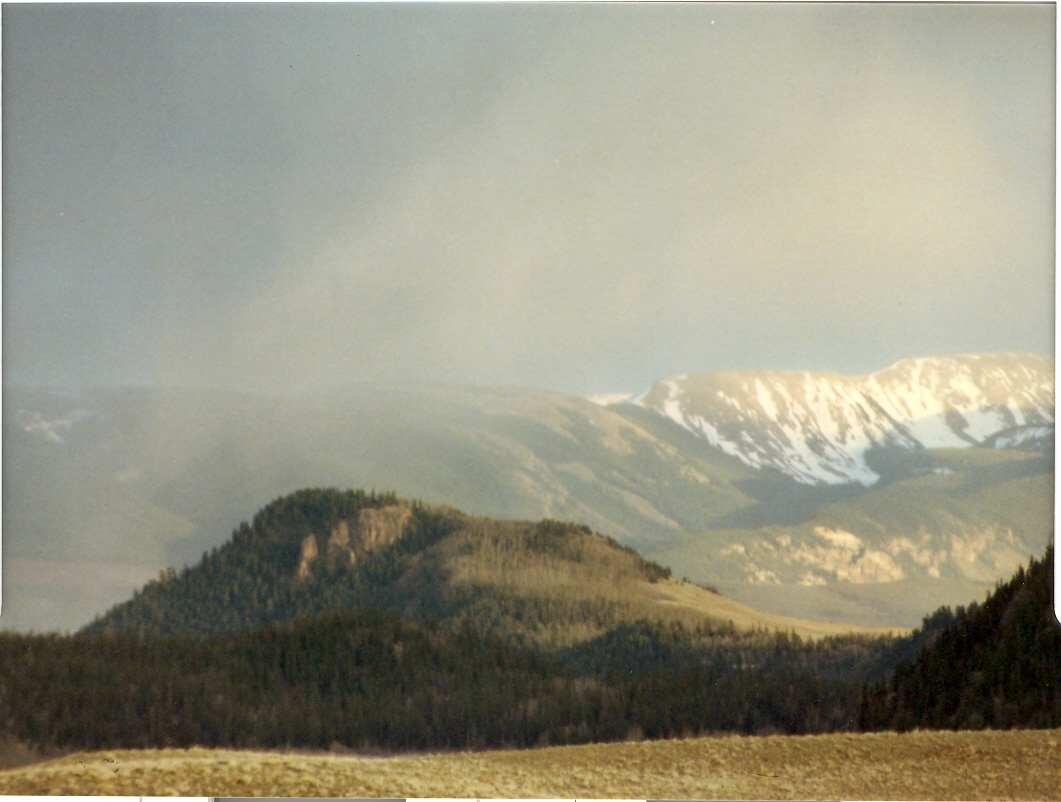 Photo by Winfield Davenport
Vaya con Dios
The Eclectic Cowboy
Winfield Davenport